Check out some great song clips from Camille's back catalog!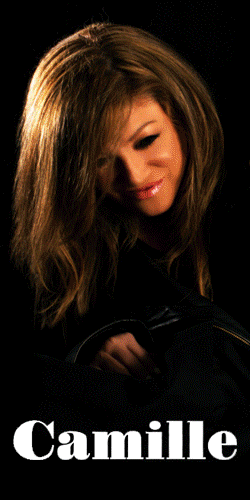 LATEST NEWS...
July 15, 2019
Camille's News page is back! There is lots happening, including big jingle spots now running nationally and a brand new compilation album due in November. We will tell you all about it over the next few weeks, but for now we can start with this upcoming Camille performance on July 19! Hope to see you there.
---
June 30, 2017
Please note: the News Page will be down for some time as we upgrade our site servers and improve other areas of the website. We will be back, after the upgrades are done. Thanks for your patience!
---
April 22, 2017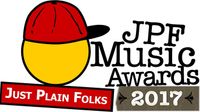 Camille picks up two more award nominations!
The JPF Music Awards have just announced their nominees for 2017, and I Sing Stevie has been picked in the Best Tribute Album category, while her song "They Won't Go When I Go" was selected for Best Cover Song. The winners will be announced later this year. Since the JPF awards don't occur every year, Camille's album was still eligible for nomination.
JPF (short for Just Plain Folks) is home of the world's largest music awards, which, according to the JPF site, recognizes "the other 98% of independent musicians". The long-running organization is now 50,000 members strong! Camille's two nominations puts her in excellent company alongside others who nabbed nominations, including Ashford & Simpson's Valerie Simpson, Eagles songwriter and solo artist Jack Tempchin, legendary singer Janis Ian, Hawaiian actress/vocalist Tia Carrere, Nashville Songwriters Hall of Fame member Gretchen Peters, longtime R&B crooner Mel Carter, and many more in 70-plus different music categories.
Check back here for updates on this prestigious honor as well as details of the upcoming JPF Awards Show in Los Angeles this August, where Camille will be a possible performer pending the lineup announcement. Since this year's awards are the first in several years, it promises to be a big event. 
---
December 21, 2016
Happy Holidays to all! Be sure to check out famed journalist Scott Yanow's great new review of I Sing Stevie on Camille's reviews page. Here's a nice quote: "Her love for the music is obvious, as is her talented singing. One suspects that Stevie Wonder would love this CD."
There will be some exciting new things in the new year, including the release of the Deluxe version of I Sing Stevie with bonus tracks and alternate takes. There'll also be the release of several music videos from the album, as well as a documentary with Camille finally telling her fascinating life story.
And best of all, live concert performances! Stay tuned for all of it, and please sign up for her mailing list and follow her on Facebook and Instagram for the newest updates.
And to everyone, a happy new year!
---
February 25, 2016
Camille has been selected to be a judge in the 2016 15th Annual Independent Music Awards! She joins Tom Waits, Ledisi, Meshell Ndegeocello, Lalah Hathaway, the Allman Brothers' Warren Haynes and others on this year's prestigious judges panel.
---
December 3, 2015:
Special holiday pricing for I Sing Stevie: The Stevie Wonder Songbook will only last through the end of the month! Get the CD or full download at CD Baby for only $5.99. Remember, this is a limited special edition CD, and will only be available until supplies run out.
Why buy the CD? Because it includes a special 16 page booklet with photos, credits and special liner notes and dedications written by Camille. The CD is beautifully packaged and will make a great present for that someone special.
To buy the CD Baby edition, click here.
To everyone, have a happy holiday season!
---
October 29, 2015:

Now officially on the first round ballot for the 58th Annual Grammy Awards:
ALBUM OF THE YEAR: Camille I Sing Stevie: The Stevie Wonder Songbook
BEST ARRANGEMENT: Camille & Will Lee "The Secret Life Of Plants" (arranged by Mitchel Forman & Rick Suchow)
For a limited time, all tunes are available in full (streaming & download) on Camille's music page on this site. To Academy members: Thank you in advance for your Grammy consideration!
---
July 30, 2015

Camille's album I Sing Stevie: The Stevie Wonder Songbook is entered in the 58th Annual Grammy Awards in several categories!
---
April 30, 2015:
Big thanks to all the radio stations who have spun Camille's new album! We'd like to send a special shout out to KPVU 91.3, WEIB 106.3, WFSS 91.9, WJAB 90.9, WTCC 90.7, WVST 91.3, KOKY 102.1 as well as ClearChannel.com, Phase-Radio Show at 90.5FM, and Smooth Jazz Florida WSJF, and most recently thanks to Stu at WAVE-FM for keeping "Power Flower" in heavy rotation.
New website feature: Highlights from Camille's back catalog have now been added to the Music section of this site. If you mouse over the Music tab at the top of any page, you'll see a drop-down list of various categories. Feel free to listen to some of Camille's earlier hits, demos, jingles, and short clips from her last album Camille Filfiley.
Coming in May... audio from Camille's recent live on-air radio interview with Lenny "The Jazz Man". And don't forget, fans have their own separate vote for the 2015 Independent Music Awards, so please drop by the IMA site and vote for Camille for Best Tribute Album. (You'll have to register, but it's quick and easy).
While you're at the IMA site, check out the music industry judges picking this year's winners!
---
April 7, 2015: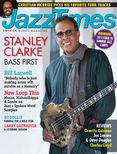 The April 2015 issue of Jazz Times is offering a free download of Camille's great version of "As"! Available online until the end of the month exclusively at  JazzTimes.com.
Check out the ad promotion in the print mag for I Sing Stevie and visit Camille's Jazz Times artist page on the Jazz Times site.
---
  March 27, 2015: 

The nominees for the 14th Annual Independent Music Awards were announced yesterday, and Camille has received a nomination in the Best Tribute Album category for I Sing Stevie: The Stevie Wonder Songbook!
Nominations in more than 80 Album, Song, EP, Music Producer, Music Video and Design categories were announced for self-released and independent label artists. The IMA Awards continue to be a major industry event; this year nominees were selected from 70 countries across 6 continents!
Winners are selected by a panel of influential artist and industry judges, but music fans from around the world can also vote for their favorite nominees at the Vox Pop Jukebox, the fan determined portion of the IMA's. So there will be two winners in each category... we urge you all to get out the vote for Camille! To vote, follow this link: Best Tribute Album IMA Fan Vote.
In other news, be sure to check out Camille's ad for I Sing Stevie running in the April issue of Jazz Times magazine, on newsstands now. We'd also like to send out thank yous to radio stations KTSU and WRTC for adding Camille, and be sure to check out her on-air interview with Lenny "The Jazz Man" Vann next week on WCNI, if you are in the area.
Follow Camille on Twitter @CamilleMusicNet where you can check in on her personal messages and also get the latest #ISingStevie news!

---
March 12, 2015: Five months after its release, I Sing Stevie is still going strong! Today the album returned to the #2 position on Amazon's Best Sellers chart for Latin Jazz. It also rose to #6 on the Salsa chart and #19 on the Contemporary R&B chart.
Here's a screenshot of today's chart (see Gallery page for full size):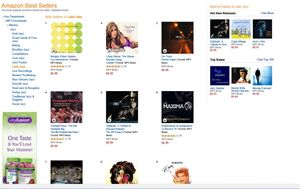 We'd like to thank the following radio stations for their support: WFSS, WJAB, WTCC, WVST, KOKY, KPVU. If you're in the area, be sure to tune in for Camille's live on-air interview this Monday March 16 on WTCC 90.7 Reflections Radio!
Look for Camille's ad running in NYC Jazz Record Magazine this month: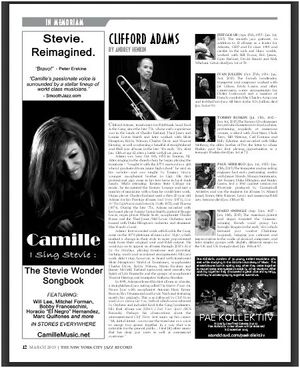 ---
February 10, 2015: After briefly slipping out of the Top 10, I Sing Stevie returns to #6 on the Amazon Best Sellers chart for Latin Jazz!
The album has also returned to the Top 20 Contemporary R&B and Salsa charts as well. Thank you so much to all the folks who have taken the time to show their support of this album. We've received many wonderful messages!
---
January 24, 2015: New website updates: Camille's full discography and bio now added (see Discography page). In album news, I Sing Stevie remains on the SmoothJazz Top 50 Radar chart for a third consecutive week. Special thanks to our radio station friends at KPVU, WFSS, WMRT (Chocolate Jazz Radio) and WSJF Smooth Jazz Florida for the spins and support. Thanks also to Skip Dillard of WBLS in New York for welcoming Camille back to the station for a visit!
---
December 15, 2014: "Power Flower", the first single off of I Sing Stevie, is now in rotation at SmoothJazz.com Global Radio! Check out Camille's great interview on the SmoothJazz.com site... you can read it here.
---
October 8, 2014: I Sing Stevie: The Stevie Wonder Songbook enters three Top 10 charts on Amazon on its first day of release! The album hit #2 on the Latin Jazz Downloads chart, #6 on the Salsa chart, and #9 on the Contemporary R&B chart.
---